Trade name
Okayama Kougei Co. Ltd.
Location of Head Office
Kyoto-shi Fushimi-ku, Fukakusa Nishiura-cho 8-2-2,
Postal Code 612-0029
Telephone number
075-643-4317 / Fax 075-643-4320
Website
https://www.okayama-kougei.com/
Operating hours
8:30-17:30 (We are closed on the Saturdays, Sundays, holidays, and the New Year's holiday season)
Fushimi atelier
Kyoto-shi, Fushimi-ku, Fukakusa Taniguchi-cho
Established
September 1968
Subcontractors
300 companies
Logo mark
The circle of outside in the logo mark is imaged from a core wood of a bolt of cloth or from Taiko or rollers used in wakuba, which is a machine used during coloring the cloth for kimonos. Four small rounds in the circle are images when a bolt of cloth opens a little, and they stand for the cooperation by craftsmen. One craftsman performs his own task and deliver it to next craftsman, then after he finishes his task, he gives it to another craftsman. Many craftsmen work together to create a hand-painting Kyo-yuzen Kimono. The four lines of the center are an image of tools which are used during work. For example, a painting brush, a temple, a tool which is used when drawing lines or coloring with gold.
This logo represents many workers involved in Kyo-yuzen and their cooperation. This cooperation makes an elaborate Kyo-yuzen kimonos. Okayama Kogei is the company just like this logo mark.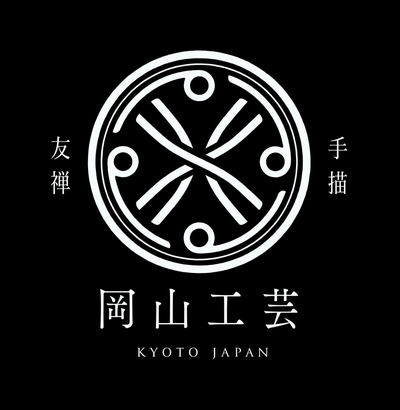 The video for introduction of our company
This is about two minutes video in which we show our working scene and working process in the studio. We created this video because we would like to show our products to many people when we exhibited them in Tokyo Gift Show.