Trade name
OKAYAMA-KOUGEI Inc.
Location of Head Office
Kyoto-shi Fushimi-ku, Fukakusa Nishiura-cho 8-2-2,
Postal Code 612-0029
Telephone number
075-643-4317 / Fax 075-643-4320
Website
https://www.okayama-kougei.com/
Operating hours
9:00~18:00
Non-business days
Weekends, national holidays, and the New Year's holiday season
Fushimi atelier
Kyoto-shi, Fushimi-ku, Fukakusa Taniguchi-cho
Established
September 1968
Incorporated
September 2018
Description of business
Manufacture and sales of hand-painted Kyo-yuzen and general kimonos
Subcontractors
300 companies
Change of company name
With the incorporation of our company in September 2018, our company name was changed from "OKAYAMA-KOUGEI Co. Ltd." to "OKAYAMA-KOUGEI Inc.".
We would like to express our sincere gratitude for the patronage of our customers over the past 50 years since the establishment of the company. All of us are determined to continue to our efforts and would like to ask for your continued support and encouragement in the future.
Logo mark
The circle of outside in the logo mark is inspired from a core wood of a bolt of cloth used in wakuba, which is a machine used during coloring the cloth for kimonos. The four small rounds in the circle are images when a bolt of cloth opens a little, and they stand for the cooperation between the craftspeople. One craftsperson performs his or her own task and delivers it to next craftsperson, who after finishing the task passes it on to another craftsperson. Many craftspeople work together to create a hand-painted Kyo-yuzen Kimono. The four lines of the center are an image of tools which are used during work. For example, a painting brush, a temple, a tool which is used when drawing lines or coloring with gold.
None of them is a single entity. They represent the world of hand-painted Kyo-yuzen which is created when the power of many people comes together, just like in this circle. The logo also represents the nature of OKAYAMA-KOUGEI as a company.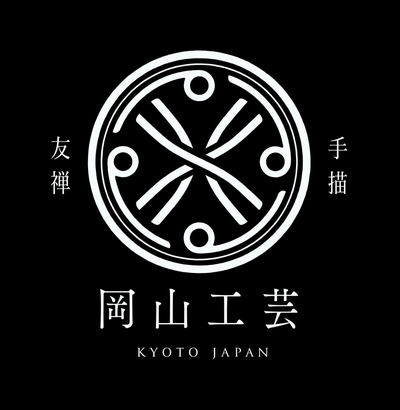 Introduction video of our company
This is a 2-minute video in which we show our working scene and working process in the studio. We have created this video to make our products known to many people.